Five drug startups have signed leases to fill a building still under construction at the site of the old Arsenal Mall.
By Tim Logan, Globe Staff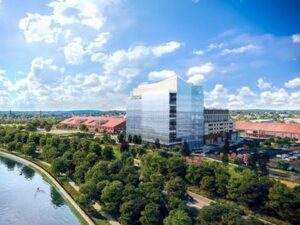 In the latest sign that Watertown's East End is becoming a magnet for life sciences companies, the first lab building to start construction there without any tenants will finish construction fully leased.
Boylston Properties, which is converting the old Arsenal Mall into a mixed-use complex known as Arsenal Yards, announced Wednesday that it has rented all of the space at 100 Forge — a nine-story, 165,600-square-foot building — to five venture capital-backed life science companies.